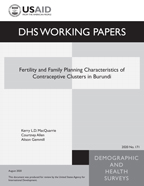 Document Type

Publication Topic(s)

Country(s)

Language

English

Recommended Citation

MacQuarrie, Kerry L.D., Courtney Allen, and Alison Gemmill. 2020. Fertility and Family Planning Characteristics of Contraceptive Clusters in Burundi. DHS Working Paper No. 171. Rockville, Maryland, USA: ICF.

Download Citation

Publication Date

August 2020

Publication ID

WP171
There is no printed copy available to order.
Abstract:
This study sought to identify discrete subpopulations of women in Burundi based on patterns in their contraceptive and pregnancy experience. Toward this aim, we do not use typical cross-sectional measures, but instead put to new use retrospective, longitudinal data from Demographic and Health Surveys (DHS) contraceptive calendars. Specifically, we apply sequence and cluster analysis of these longitudinal data to identify discrete clusters that characterize women's dynamic contraceptive and pregnancy behaviors over the previous 5 years. We further supplement the sequence data of the clusters with additional demographic, fertility, and family planning data from elsewhere in the survey and use multivariate logistic regression analysis to create rich descriptions of women in these clusters. We identify six clusters, with three clusters (85% of women) characterized by no use of contraception and three clusters (16%) characterized by contraceptive use. The six clusters are: (1) Quiet Calendar (42%), characterized by women who do not experience pregnancy or use any methods of contraception; (2) Family Builder 1 (25%) and (3) Family Builder 2 (18%), which are both characterized by women who did not use any method and experienced two pregnancies; (4) Modern Mother (8%), which is characterized by women who adopted short-term modern methods toward the end of year 2 after a period of non-use and one pregnancy; (5) Consistently Covered Mother (6%), characterized by women who adopted long-acting reversible contraception or permanent methods after a period of non-use and one pregnancy; and (6) Traditional Mother (2%), characterized by those who adopted traditional methods at the end of year 2 after non-use and one pregnancy. Factors most consistently associated with cluster membership are need for family planning, lifetime experience of contraceptive use, marital status, pregnancy experience, and age. The number of children ever born at the start of a woman's calendar sequence is associated with membership in only half of the clusters: Quiet Calendar, Modern Mother, and Consistently Covered Mother. Cluster membership is seldom differentiated by socio-economic variables. The Quiet Calendar cluster stands apart from the other clusters: Along with no use of contraception over the past 5 years, Quiet Calendar women are unmarried and have no children or pregnancies, no need for family planning, and no history of contraceptive use. The Family Builder 1 and Family Builder 2 clusters, which appear similar, deviate from one another in terms of levels of unmet need and lifetime experience with contraception.