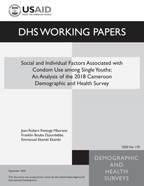 Document Type

Publication Topic(s)

Country(s)

Survey

Language

English

Recommended Citation

Rwenge Mburano, Jean-Robert, Franklin Bouba Djourdebbe, and Emmanuel Ekambi Ekambi. 2020. Social and Individual Factors Associated with Condom Use among Single Youths: An Analysis of the 2018 Cameroon Demographic and Health Survey. DHS Working Paper No. 170. Rockville, Maryland, USA: ICF.

Download Citation

Publication Date

September 2020

Publication ID

WP170
There is no printed copy available to order.
Abstract:
In Cameroon, two-fifths of the population is between age 15 and 24. Adolescents and youths are an important social group for the development of the country and the realization of its demographic dividend. Promotion of sexual and reproductive health will enable youth to transform their potential into development. This study aimed to identify the determinants of condom use at the last sexual intercourse among single youths, highlight gender differences in the factors associated with condom use, and identify the characteristics of youths who were less likely to use condoms. To achieve these objectives, we analyzed data from the 2018 Cameroon Demographic and Health Survey from 1,464 single females and 989 single males age 15-24. Multivariate logistic regression was used to test the study hypotheses. Overall, 51% of the female and 66% of male youths reported using condoms at their last sexual intercourse. For both sexes, the protective factor was not having children. Among the females, belonging to the Bamileke or Mbo ethnic groups and delaying first sexual intercourse were also protective, while working in modern or service sectors was the main risk factor. Among male youths, residing in households whose heads have a higher educational level was protective, and household poverty was the main risk factor. These findings support Cameroon's multisectoral approach to HIV/AIDS prevention among youths, and emphasize the importance of involving parents, teachers, and youths.