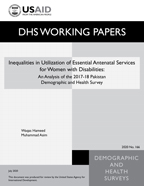 Document Type

Publication Topic(s)

Country(s)

Survey

Language

English

Recommended Citation

Hameed, Waqas, and Muhammad Asim. 2020. Inequalities in Utilization of Essential Antenatal Services for Women with Disabilities in Pakistan. DHS Working Paper No. 166. Rockville, Maryland, USA: ICF

Download Citation

Publication Date

July 2020

Publication ID

WP166
There is no printed copy available to order.
Abstract:
Although the number of disabled women entering motherhood is growing, there is little quantitative evidence about the utilization of essential antenatal care services by women with disabilities. The aim of this study is to examine inequalities in the use of essential antenatal services between women with and without disabilities. This study analyzed data from the Pakistan Demographic and Health Survey 2017-18 on 6,791 women (age 15-49) who had a live birth in the 5 years before the survey. Multiple logistic regression was used to test the study hypothesis. The prevalence of any disability and any severe disability was 14.4% and 2.6%, respectively. The coverage of antenatal care did not differ by overall disability status or subgroup analysis. The only exception was found among the poorest women who had any disability and who had a 50% greater chance of receiving antenatal care compared with the non-disabled women. With utilization of essential antenatal care components, consumption of iron was lower among women with disabilities, while counseling care (advice on exclusive breastfeeding and balanced diet) was higher among women with disabilities as compared with their counterparts. Our study did not find glaring inequalities in the utilization of antenatal care services between disabled and non-disabled women. This was true for urban versus rural residence and among the poor versus rich women. We suggest that the country's health system, to a great extent, is responsive to the needs of disabled women for antenatal services. Some measures, however, should be made to improve medication compliance among disabled women.