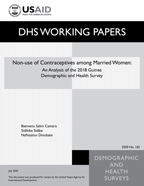 Document Type

Country(s)

Survey

Language

English

Recommended Citation

Camara, Bienvenu Salim, Sidikiba Sidibe, and Nafissatou Dioubate. 2020. Non-use of Contraceptives among Married Women: Analysis of the 2018 Guinea Demographic and Health Survey. DHS Working Paper No. 165. Rockville, Maryland, USA: ICF.

Download Citation

Publication Date

July 2020

Publication ID

WP165
There is no printed copy available to order.
Abstract:
In 2018, contraceptive prevalence in Guinea remained low at 11% (8% in the rural areas). This study aims to examine current contraceptive non-use among 1,076 married women in Guinea who have ever used any type of contraceptive method. The analyses included descriptive statistics, tests of association, a logistic regression, and a profile of women not currently using contraceptive methods among ever users. Of the sampled women, 454 (42%) were not using a contraceptive method. Three of five non-users made the decision about not using contraceptives. Reasons for non-use included infrequent sex (77%) and post-amenorrhea/breastfeeding (10.6%). The unmet need for family planning was 48%. Half of the women (51%) reported that they intended to use a family planning method at a later time. Factors associated with contraceptive non-use included living in the administrative regions of Boké (AOR: 2.71; 95% CI: 1.4–5.26) and Mamou (AOR: 3.59; 95% CI: 1.39–9.29); being age 25-29 (AOR: 2.84; 95% CI: 1.24–6.49), 30-34 (AOR: 3.09; 95% CI: 1.28–7.47), and 45-49 (AOR: 3.40; 95% CI: 1.18–9.77); having more than five living children (AOR: 0.44; 95% CI: 0.2–0.95); and the husband's desire for more children (AOR: 1.73; 95% CI: 1.1–2.71). Interventions that target ever users who are currently not using contraception could contribute to the resumption of contraceptive use among these women. Community family planning interventions such as male or couple sensitization or men's involvement in reproductive health decisions can improve community perceptions about contraception and women's rights for reproductive health.