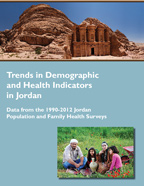 Document Type

Publication Topic(s)

Child Health and Development, Education, Family Planning, Fertility and Fertility Preferences, Infant and Child Mortality, Maternal Health, Nutrition, Wealth/Socioeconomics, Youth

Country(s)

Language

Arabic,English

Recommended Citation

Assaf, Shireen and Sarah E.K. Bradley. 2014. Trends in Demographic and Health Indicators in Jordan: Data from the 1990-2012 Jordan Publication and Family Health Surveys. DHS Trend Reports No. 8. Rockville, Maryland, USA: ICF International.

Download Citation

Publication Date

September 2014

Publication ID

TR8
Abstract:
Data from the six Jordan Population and Family Health Surveys (JPFHS) carried out in 1990, 1997, 2002, 2007, 2009 and 2012 were used to describe trends in Jordan over an interval of more than 20 years. Trends are presented for demographic, social and household indicators; fertility rates and fertility intentions; family planning; maternal and adult health; and child health. Tests of statistical significance were applied to the observed differences between the surveys for each indicator. Many indicators appeared to be changing significantly in the direction of improvements, such as household density, education level of ever-married women, fertility rates, number of ante-natal care visits, premarital exams, and child immunization. Some indicators showed no significant change between the most recent surveys—for example, the interval between births, use of modern contraception, unmet need for limiting births, anemia in children, child mortality, and stunting. Some indicators are moving significantly in a contrary direction, particularly between the most recent surveys—for example, delivery by C-section, anemia in women, obesity, smoking by women, underweight and wasting in children.