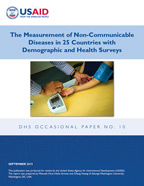 Document Type

Publication Topic(s)

Language

English

Recommended Citation

Mitsuaki Hirai, Nisha Grover, and Cheng Huang. 2015. The Measurement of Non-Communicable Diseases in 25 Countries with Demographic and Health Surveys. DHS Occasional Papers No. 10. Rockville, Maryland, USA: ICF International.

Download Citation

Publication Date

September 2015

Publication ID

OP10
Abstract:
This report provides an overview of NCD data that have been collected by The DHS Program. The main objectives of this report are: 1) to describe the procedures and questions used to collect data on NCDs in DHS surveys; 2) to present prevalence rates and differentials of hypertension and diabetes; 3) to compare NCD data collection efforts of DHS and WHO; and 4) to discuss future NCD data collection by DHS. Twenty-five DHS countries were identified as having one or more surveys that collected biomarker or self-reported data on at least one of the following NCDs: hypertension, diabetes, prostate cancer, breast cancer, and cervical cancer. Most of the NCD data collected in the 39 surveys examined in this report are self-reported data. Biomarker data are available only for hypertension and diabetes in 13 countries and 3 countries, respectively. Age ranges of respondents eligible for biomarker testing varied across surveys. While earlier surveys focused on respondents in DHS standard age ranges (15-49 for women and 15-54(59) for men), recent surveys were designed to collect biomarker data on older adults. Procedures used in collecting biomarker measurements in DHS surveys are largely consistent and follow WHO guidelines. The analysis results suggest large disparities in prevalence rates of hypertension and diabetes across DHS countries by age, wealth, education, and residence. The report concludes that DHS has made a substantial contribution to understanding the issue of NCDs in developing countries by collecting data on several important NCDs. However, the expansion of NCD data collection must necessarily be judged by weighing increased cost against the potential utility of the data. Systematic data collection on NDCs may be more relevant in middle-income countries than in low-income countries.