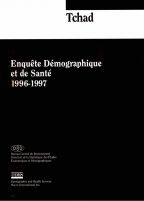 Document Type

Country(s)

Survey

Language

French

Recommended Citation

Ouagadjio, Bandoumal, Kostelngar Nodjimadji, Joël Nodjimbatem Ngoniri, Ningam Ngakoutou, Keumaye Ignégongba, Joél S. Tokindang, Oumdague Kouo, Bernard Barrère, and Monique Barrère. 1998. Enquête Démographique et de Santé, Tchad 1996-1997. Calverton, Maryland, USA: Bureau Central du Recensement/Tchad and Macro International.

Download Citation

Publication Date

May 1998

Publication ID

FR90
There is no printed copy available to order.