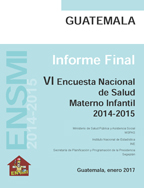 Document Type

Country(s)

Survey

Language

Spanish

Recommended Citation

Ministerio de Salud Pública y Asistencia Social - MSPAS/Guatemala, Instituto Nacional de Estadística - INE/Guatemala, Secretaría de Planificación y Programación del la Presidencia - Segeplán/Guatemala and ICF International. 2017. Encuesta Nacional de Salud Materno Infantil 2014-2015: Informe Final. Rockville, Maryland, USA: MSPAS, INE, Segeplán and ICF International.

Download Citation

Publication Date

January 2017

Publication ID

FR318
There is no printed copy available to order.