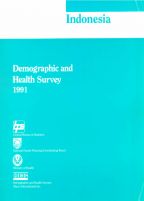 Document Type

Country(s)

Survey

Language

English

Recommended Citation

Central Bureau of Statistics - CBS/Indonesia and State Ministry of Population/National Family Planning Coordinating Board - NFPCB/Indonesia and Ministry of Health - MOH/Indonesia and Macro International. 1992. Indonesia Demographic and Health Survey 1991. Calverton, Maryland: CBS and Macro International.

Download Citation

Publication Date

December 1991

Publication ID

FR18
There is no printed copy available to order.