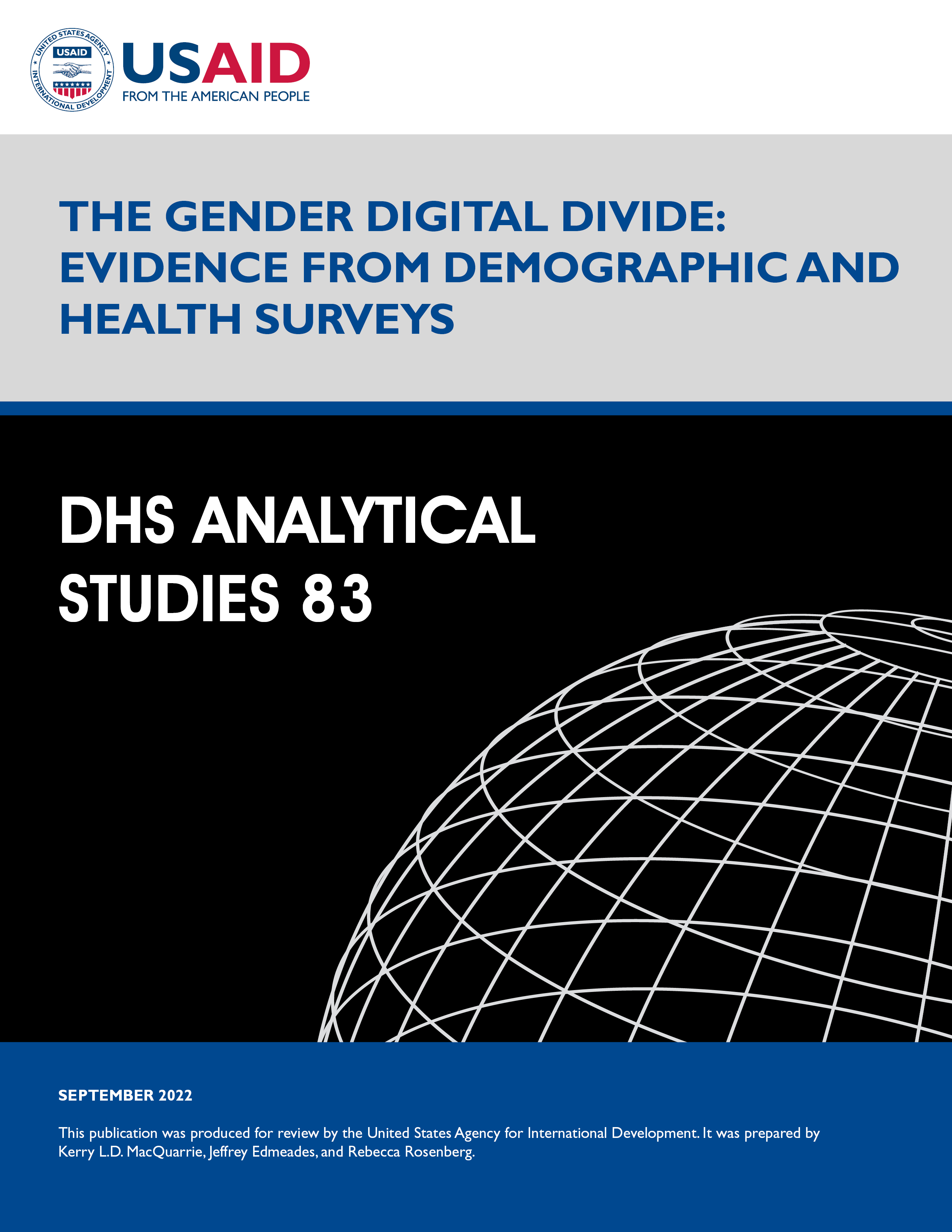 Document Type

Publication Topic(s)

Country(s)

Benin, Burundi, Cameroon, Ethiopia, Gambia, Guinea, Liberia, Malawi, Mali, Nigeria, Rwanda, Sierra Leone, Tanzania, Uganda, Zambia, Zimbabwe, Armenia, Jordan, Maldives, Nepal, Pakistan, Timor-Leste, Haiti

Language

English

Recommended Citation

MacQuarrie, Kerry L. D., Jeffrey Edmeades, and Rebecca Rosenberg. 2022. The Gender Digital Divide: Evidence from Demographic and Health Surveys. DHS Analytical Studies No. 85. Rockville, Maryland, USA: ICF.

Download Citation

Publication Date

September 2022

Publication ID

AS83
There is no printed copy available to order.
Abstract:
Women may have less access to digital resources and use them less often than men; further, certain groups of women may be particularly disadvantaged in their use of digital technologies. The contours of the gender digital divide may have implications for mobile health interventions that rely on mobile phones or the internet to reach their intended audiences. This study describes the gender digital divide in multiple Demographic and Health Surveys (DHS) across several information and communication technology (ICT) indicators: weekly internet use, mobile phone ownership, and use of mobile phones for financial transactions among women and men. We also examine equity in digital access across different subgroups, including residence, age, and wealth, for women and men separately. We find that men's and women's weekly internet use lags behind both their ownership of mobile phones and weekly use of traditional media (for example, radio or television). We further find clear gender gaps—favoring men—in mobile phone ownership, their use for financial transactions, and weekly internet use, with the biggest gap seen in mobile phone ownership. Across all countries, a greater percentage of women than men lack access to both mobile phones and internet, whereas a greater proportion of men have both technologies. We also find residence, age, and wealth gaps related to these technologies. All three ICT measures are higher among urban residents and wealthier groups. Young people age 15–19— women and men—are most disadvantaged with regard to mobile phone ownership, but those age 40–49 are most disadvantaged in regard to internet use. These patterns by residence, age, and wealth are largely the same for women and men. However, the residence and wealth gaps in mobile phone ownership tend to be wider for women than for men while age gaps in mobile phone ownership and all other gaps for internet use are wider for men. Our results suggest that implementers of mobile health interventions should account for existing inequalities related to access and use of digital technologies, innovate ways to reach their intended target population, and guard against unintentionally worsening existing health inequalities.