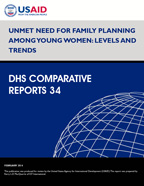 Document Type

Publication Topic(s)

Language

English

Recommended Citation

MacQuarrie, Kerry L.D. 2014. Unmet Need for Family Planning Among Young Women: Levels and Trends. DHS Comparative Reports No. 34. Rockville, Maryland, USA: ICF International.

Download Citation

Publication Date

February 2014

Publication ID

CR34
Abstract:
Young women may disproportionately experience unmet need for family planning for a variety of reasons. While the concept of unmet need is straightforward— women wanting to delay or limit childbearing but not using a contraceptive method— the calculation of the indicator has changed several times, most recently in 2012. This study applies this revised algorithm in a comparative analysis of unmet need among young women using DHS data from 142 surveys in 61 developing countries. Specifically, it calculates current levels and trends in total demand and unmet need for family planning and its components, namely exposure to risk of pregnancy through marriage or non-marital sexual activity, fertility preferences, and use or non-use of contraception. An estimated 31 million young married women in study countries experience unmet need. Unmet need is, on average, greater among unmarried young women than among married peers; demand in this population approaches 90% in all regions. Unmet need is often higher among younger women, rural women, women in poorer households, women with low education (except in Africa) and women who already have at least one child. Unmet need has declined over time for married and unmarried young women in most countries, except in West and Central Africa where trends are mixed. Over time, there generally has been an increase in the age at marriage but no clear increase in sexually activity among unmarried young women. Desired family size has decreased and use of modern contraceptive methods has increased in most countries.